We are a highly respected roofing company, providing quality roofing solutions at very affordable rates. We have been in this industry for over two decades now and our commitment to providing quality roofing services contributes to the great reputation that we continue to enjoy. Our goal is to satisfy clients in this region as far as roofing is concerned. As the best roofing contractors in Waitakere, we conduct this through a strategic approach where we sensitise our clients on the importance of roof inspection and roof maintenance.

We have invested in the best materials and tools needed for all your roofing projects. We have liaised with the best manufacturers in this industry to ensure that our clients are getting the very best, no matter their budgets. You can be sure that any roofing material you install through us comes with a service promise. We offer clients clean, fast and excellent services that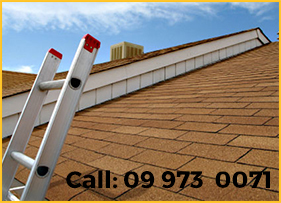 keeps them coming back for more. Apart from new installations, we also fix and repair existing roofs, replace worn cracked or broken cladding, install gutters and provide flashings. You can trust our Waitakere roofing team to advice you properly. Sometimes, all a roof requires is a minor repair.
We are only happy when our clients are happy and that's why we want to help you as much as possible to get the roof of your dreams. We will advise you on what to buy to rectify a problem even if we did not install the roof initially. We will give you economical solutions that ensure you have a long lasting roof at a good price. Our qualified roofers in Waitakere will makes sure of this. Call us today!